Introduction: Since the reform and opening up, the development and application of shotcreting machines have been carried out on a large scale in the Chinese market. The domestic market has carried out large-scale basic construction projects and required more spraying equipment. The jet spraying machine has experienced rapid development in China. And applications.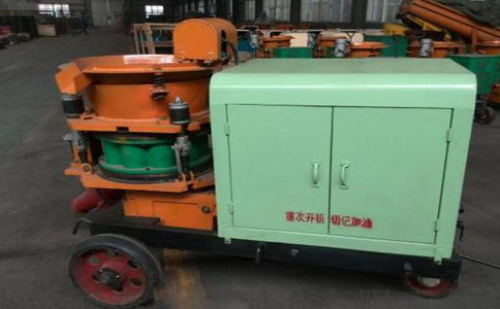 Since the reform and opening up, a large number of roads and railways have been built, the country has provided better travel routes for the general public and laid the foundation for the development of economic construction. The smooth progress of these projects cannot be separated from more intelligent machinery and equipment. Safe, reliable construction of quality works. Excavation and construction of tunnels is an important project for railways and highways. Shotcreting in tunnels is also of utmost importance. The quality of shotcreting in tunnels is related to the key points of the entire project. The selection of shotcreting machines is of great importance.

Jiaozuo Taixin Machinery Manufacturing Co., Ltd. is a professional manufacturer of concrete spraying machines. Over the past ten years, our spraying machine technology has developed rapidly, which has improved the core competitiveness of the spraying machine, and the international market trend is obvious. Concrete mortar spraying machine is widely used in tunnel construction, bridges, coal mines, high marsh mines, hydropower projects, underground engineering, culverts, subways, construction projects and other engineering construction and protection.

Concrete shotcreting machine is a machine that uses compressed air to transport concrete through the material cavity and continuously transport it along the conveying pipe and spray it onto the construction surface. According to the different spraying methods, the concrete spraying machine can be divided into dry spraying machine, wet spraying machine and tidal spraying machine.

1. The dry spraying machine is to stir a certain proportion of cement and aggregates and then blow it through the compressed air machine to the nozzle of the machine. After it is contacted and mixed with the pressure water of the pressure tank, it is sprayed. Shenxin PZ series dry spraying machine has fast working speed and simple structure, but the dust is relatively large, and the rebound rate of machine ejecting material is relatively large. Dry spray guns use rotor spray guns, which are slightly cheaper.

2. Shenxin HS series wet spraying machine is used to inject cement, concrete and aggregate, etc., into the slurry that has been mixed with water. Therefore, the wet spraying machine has less dust, a relatively low rebound rate, and little harm to the health of workers. It is an ideal injection method. However, the wet slurry is more likely to condense in the feed pipe, which may cause clogging. Therefore, it must be cleaned in time. The wet spraying machine adopts piston type spraying and the price is slightly expensive. Due to environmental protection requirements, wet spraying machines are now recommended in most places.

3, tidal spray machine is a cement or concrete mixture containing a certain amount of moisture in the tidal material, the tidal spray machine when this material injection of dust is reduced, but the moisture than the wet spray machine adhesiveness is small, not easy Sticky cans.

According to the development of the spraying machine, now the spraying machine is not simply a small dry spraying machine and a wet spraying machine. The development of large-scale tunnels and other projects has prompted the development of our spraying machine industry. Now, Jiaozuo Taixin Machinery's shotcreting machine has small PZ dry type spraying machine, HS wet spraying machine, HBT pumping type wet spraying machine, SSP wet and dry spraying machine, PS and PC explosion-proof spraying machine. Medium-sized ZLP series auto-loading spray guns, HS600/700×2 wet-jet auto-feeding spray guns, double nozzle wet spray guns SPCII, etc., large-scale Shenxin TXJS30 concrete gunning robots, Shen Xin TXJS-2515Q vehicle-mounted concrete wet spray trolley, Shenxin TXJS25 track-type slurry spraying robot and so on. Small to large spray guns, large spray guns, and a wide variety of equipment. Just as you need, it's just our professionalism. Cooperation is so simple. Thank you for your trust and support. We will continue to work hard for every customer and let customers use the least money to buy the most suitable product.

The development of construction machinery shows that our country's economy is developing rapidly. In the future, the spraying machine will continue to develop. Please choose the most suitable one according to your own project. It is the best.

Product name: Stainless Steel Sanitary Cleaning Balls
1)Technology: Forged
2)Size range: DN10-100MM and 1/2" - 2.1/2"
3)Material: Stainless Steel 304, 316L,
4)Seal(Gasket): EPDM, SILICON, VITON, PTFE,
5)Type of ends available: Clamp end, Weld end, Male end, Female end, and bolted
6)Standard: DIN/SMS/ISO/3A/IDF
Application: Chemical Processing, Water & Wastewater, Landfills, Irrigation, dairy, beverage, meat processing, Mining, vacuum processing, pharmaceutical, chemical, and many other industries.
This cleaning ball is used for cleaning the tank, Requiring more detail information or catalog pls don't hesitate to contact us. For all our products, we can also produce according to ur drawing if ur Specification is out of our standard.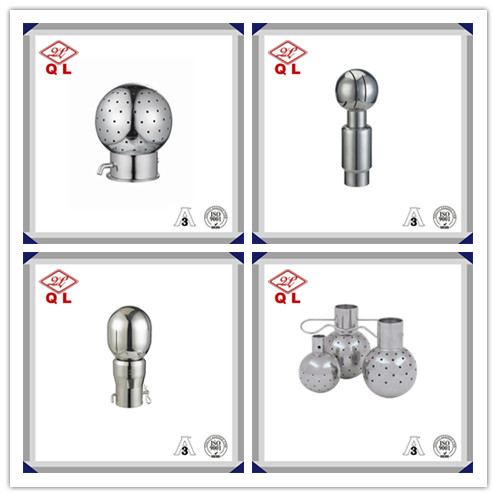 FAQ:
1.Are you a trader or manufactor?
We are a manufactor (Own Forging workshop and CNC machining workshop )

2.Can your products reach to FDA , CE and 3A requirements?
Yes, all of our material can reach to the requirements of FDA, ISO and 3A Certificate).


3.We can supply:
Sanitary Butterfly Valve, Sanitary Check Valve and Diaphragm Valves, as well as Various Tank Accessories: Sight Glass, Strainers/Filter, Cleaning Ball, And other Pipe Fittings, (Pipe Unions: SMS, DIN, IDF, RJT, 3A,DS; Fittings: Ferrule,Elbow, Tee, Reducer and all other Non-standrad fittings), each products are tested well by our strictly Quality Control System, and we also have excellent service to support you and promote your business.

4.Lead Time:
For large quantity, as usual, it can be sent out within 20-40 days.
Small parcel will be dispatched by DHL, FedEx, UPS OR TNT Courier.
Big cargo will be delivered by Air freight or By Sea.

5.Our Service:
About payment:
Payment methods: L/C, T/ T, Paypal,Western Union


6.About samples:
We can provide samples production and service. Usually 2 to 5 days, the sample can be sent to your hands. We will choose the shipping way as you required: By sea, by air or by express. Any question about samples, please contact us.


7.For OEM products:
We will finish the production within 20-40 days after payment has been confirmed.
About delivery and shipping:
We will choose the delivery way as you required: By sea, by air, by express ect. Save your cost is our mission.


8.Warranty:
Any question or problem will be respond within 12 hours.


9.Lifetime service:
Any problem happened to our product, we will do our best to help client to solve it, spare parts will be half price in lifetime.


10.Problem solve:
If you can't solve the problem in your local, please delivery the product to us, we will repair it and then back to you.


11.Quality control:
All the products are calibrated with real working condition, and tested before shipping as qualified product.


12.Purpose:Attitude is everything.

Washing Ball,Spray Ball,Clean Ball,Spray Balls Stainless Steel

Wenzhou Qili Fluid Equipment Co., Ltd. , https://www.qlssvalve.com