There are many factors affecting the treatment of cyanide-containing sewage by alkali chlorination. The main factors are:
1. Amount of oxidant added The general addition amount is 1.5 to 2 times the theoretical calculation amount, but it should be determined by experiment. The amount of addition is insufficient, cyanide cannot be completely oxidized, and the amount added is too much, which causes waste, and must be subjected to secondary treatment because of residual chlorine in the treated sewage.
2. pH value When the cyanide-containing sewage is treated by the alkali chloride method, the sewage rapidly changes from strong alkali (pH>12) to acid (pH=5). Therefore, the pH should be strictly controlled in the process, and alkali must be added to facilitate the complete oxidation of the cyanide-containing wastewater or avoid secondary pollution caused by the formation of CNCl.
3. Reaction time should be controlled by pH. The pH value is well controlled, the reaction time is short, and the treatment effect is good, otherwise the reaction time may be prolonged to several hours, and the effect is not satisfactory.
4. Temperature is generally controlled to 15 ~ 20 ° C. When the temperature is too high, the solubility of chlorine in water decreases, and at the same time, hypochlorous acid will disproportionate to form hydrochloric acid and chloric acid:
6HClO     Heat → 4HCl+2HClO 3
When the temperature is lower than 10 °C, the vaporization rate of liquid chlorine in the chlorine bottle will be greatly slowed down, and the chlorination equipment will not operate normally.
The advantage of this method is that the oxidant can be provided in different forms, and the chlorine gas oxidative decomposition reaction is complete and rapid. Whether continuous or intermittent operation is convenient, easy to control, and less infrastructure investment. The disadvantage is that the consumption of large amount of drugs, high cost, high decontamination liquid chlorine, cyanate ferrous ferricyanide can not be broken, can not be recovered cyanide.

2 Ton Diesel Forklift is a transportation vehicle, used for loading and unloading, short distance transport, heavy lifting, is called industrial vehicle by the international organization for Standardization ISO/ TC 110, used as transport machine, widely used in national economic departments, for example: the railway station, port, airport, factory, warehouse, etc, is efficient equipment mechanical for loading and unloading, stacking and short distance transport.




Diesel Forklift Performance Feature

l The circular are design, streamline modeling, elegant appearance, exquisite workmanship.

l Wide vision door frame, operator can see more clearly

l Steering axle damping technology

l Air suction located above canopy guard frame pillar, keep the engine out of dust, dynamic performance is more excellent.

l Hood built-in insulation sound-absorbing material, pro-environment, make your work more comfortable.

l Small dashboard and steering column combined, reasonably structured, professional and reliable instrument, show your working condition any time.

l A variety of dynamic choice, rich supporting tools, larger choice for you.

l Easy operation, safe reliable, will make your work easier....




Shantui products including diesel forklift, Electric Forklift, heavy duty forklift, Gasoline Forklift, container forklift, Side Loader , Pallet Truck , Construction Machinery including shantui bulldozer, Wheel Loader , crawler excavator, road roller, generator set, motor grader, truck crane, construction machinery parts, Shantui Parts , Cummins engine parts, komatsu parts, and other machinery parts.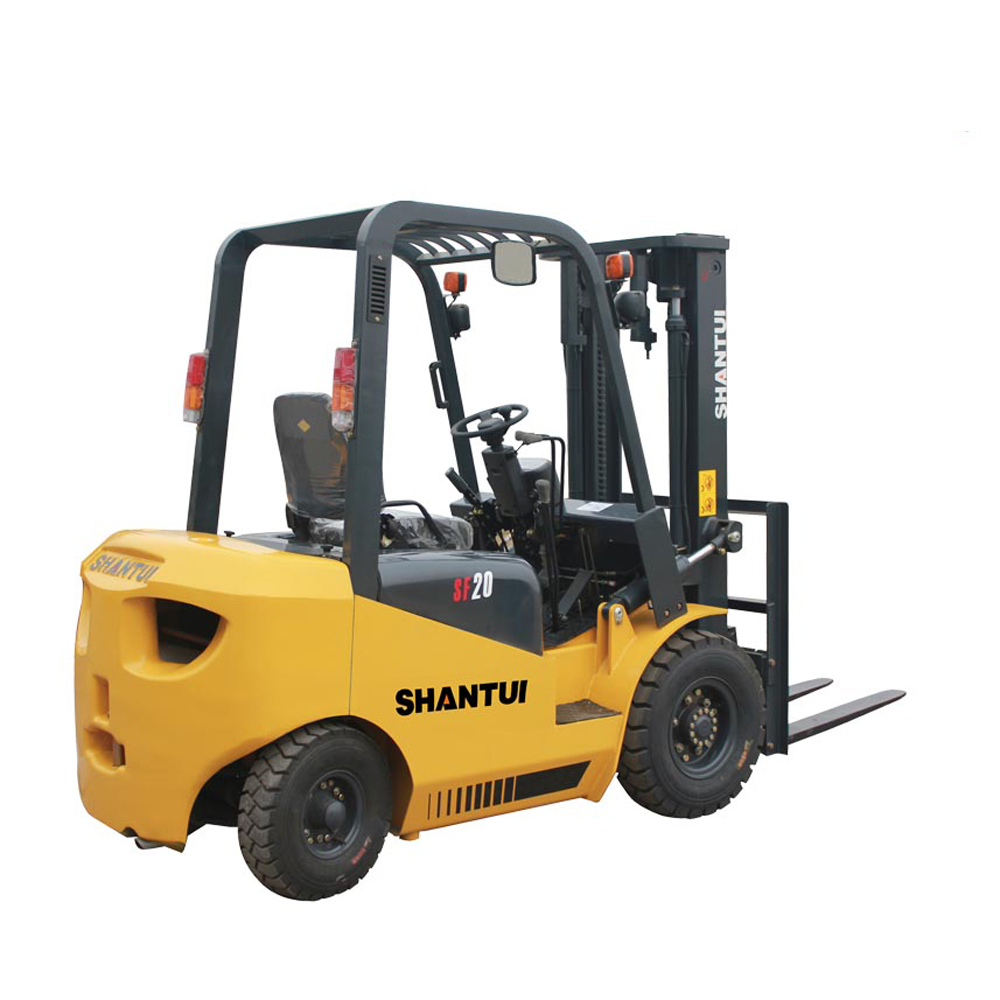 2 Ton Diesel Forklift,Diesel Forklift Trucks,Diesel Fork Lifts,2 Ton Forklift Trucks

SHANDONG HE FORK TRUCK CO.,LTD. , https://www.shantuimachinery.com