"National Drying Technology and Equipment Engineering Technology Research Center" is based on Tianhua Chemical Machinery and Automation Research and Design Institute. Since it was formally approved by the Ministry of Science and Technology in November last year, the task of engineering and technology development has been carried out in an all-round way. Relying on the large-scale drying technology and equipment localization research and development achieved gratifying results: steel industry coke oven coal moisture control device and petrochemical industry million tons of PTA (pure terephthalic acid) drying technology and equipment to the current international advanced technology of the same kind Level.

After the successful use of the PTA dryer developed by the National Drying Technology Center at the 325,000 tpa/year PTA plant of Sinopec Luoyang Branch, they continued to explore the theory of drying CTA/PTA (coarse terephthalic acid/p-terephthalic acid). Industrial testing, validation and improvement of the CTA/PTA drying mathematical model, mastered the CTA/PTA drying process and equipment design key technologies. In 2007, they took delivery of the 600,000-ton/year PTA CTA/PTA dryer of Jialong Chemical Fiber Corporation.

In February 2008, the center also tagged the Sinopec Yizheng Chemical Fiber 1 million tons/year PTA project CTA/PTA dryer development contract. Yizheng Chemical Fiber's 1 million tons/year PTA project adopts the process technology of China's independent intellectual property rights, and the supporting CTA/PTA dryer is also the largest steam tube rotary dryer independently developed by China. The dryer will be delivered in March 2009. installation.

Coking coal moisture control is a technology for improving the quality and reducing consumption. Dry coal processing is performed by heat exchange and the moisture content of the coal entering the furnace is reduced from 10% to 6%, so as to reduce coking oven heat loss and coke quality. The purpose of this technology is to ensure the continuous stability of coke oven production. The steam drying technology developed by the National Drying Center uses the low-pressure steam generated by the dry quenching steam as the heat source, and the indirect heat exchange with the wet coal through the efficient steam tube rotary dryer and the dust recovery treatment system. This technology has been widely used in the coke oven coal moisture control devices of domestic Baoshan Iron & Steel Co., Ltd., Shanxi Huijin Stainless Steel Co., Ltd. and Panzhihua Iron & Steel Co., Ltd. for its remarkable energy saving, environmental protection and economic benefits.

In January 2008, the 330 tons/hour coal moisture conditioning system project of Baoshan Iron and Steel Group was put into on-site installation and construction. The main equipment drying machine is expected to be put into operation in August 2008, and will reduce the fuel consumption of the coke oven by about 2-3 after put into operation. Kg/ton. Shanxi Huijin stainless steel coke oven 400 tons / hour coal humidity control device has entered the equipment assembly phase, was put into operation in March 2008 on-site installation and commissioning. Taiyuan Iron and Steel Company adopts the coal moisture control device built with this technology to put into production, and it is expected to save 30% of coke oven fuel and reduce coking sewage by 30% to 40%. Panzhihua Iron and Steel Co., Ltd. coke oven excavation project 350 tons / hour humidity control device is also in the design, the main equipment dryer is expected to be delivered in October 2008 installation.

Corrugated Roll Forming Machine
1.This kind of Cold Roll Forming Machine is widely used for making various metal wall panels and roof panels for steel constructions, steel structure projects and containment systems etc.
2. This production line consists of feeding unit, uncoiler, feeding guide, roll forming machine, cutter, automatic stacker, hydraulic system and electric control system.
3. The line speed of this panel forming machine is 40m/min.
Components of Roll Forming Machine for Roof Panel, Wall Panel:
1) Un-coiler:
Electric un-coiler, with coil-car
Load capacity = Max.10Tons;
2) Roll forming machine:
About 18steps to form;
Material of Roller: 45# steel with chromizing on surface
Voltage:380V/50Hz; Main line speed: 40m/min;
3) Hydraulic cutter:
1) Stop to cut, Post cut,
2) Cutting tool material: Cr12, Heat treatment
4) PLC control system:
Using Mitsubishi PLC Control the quantity, length automatically, LCD screen; remote control available
Roll forming machine consists of Uncoiler, Coil sheet guiding device, Main roll forming system, Post cutting device, Hydraulic station, PLC control system and Support table.
Optional with Hydraulic Decoiler, Auto Stacker, Safe Cover, Pre-Cutting, Film Covering Device, and so on.
Related Products:Corrugated Sheet Roll Forming Machine, Corrugated Roll Forming Machine,IBR Sheet Making Machine, Wall Roof Panel Roll Forming Machine, Color Steel Sheet Roll Forming Machine,Corrugated Iron Sheet Making Machine,Corrugated Roof Sheet Making Machine,Corrugated Sheet Metal Roof Making Machine.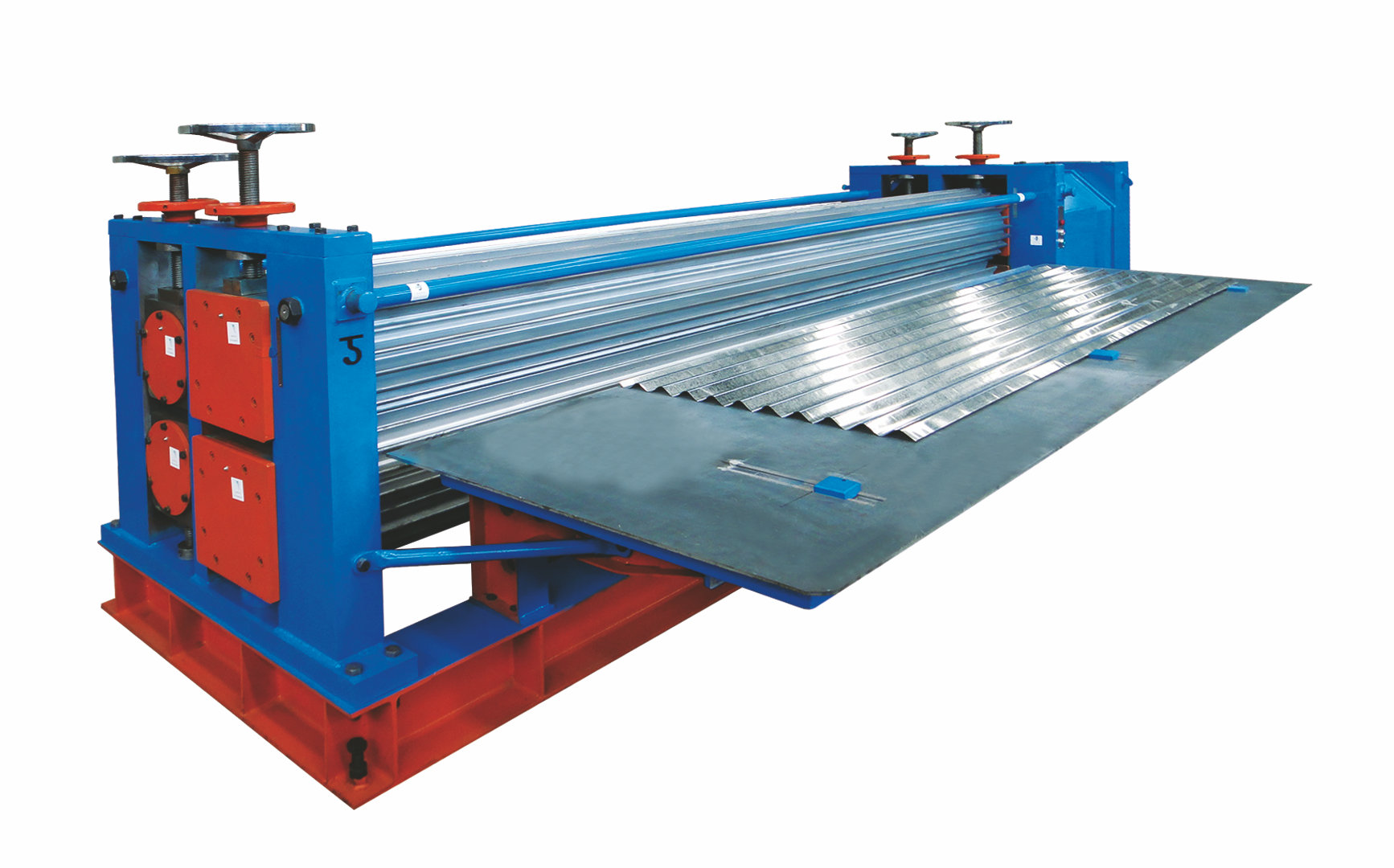 Corrugated Roll Forming Machine

Corrugated Roll Forming Machine,Corrugated Sheet Roll Forming Machine,Corrugated Iron Sheet Making Machine,Corrugated Roof Sheet Making Machine

Botou Xianfa Roll Forming Machine Factory , https://www.rollforming.nl